Biography
An original ensemble to explore and elaborate the perspective of music as an instrument of investigation and put in dialogue the accordion, one of the principal instruments of the Italian tradition, with the chamber music formation par excellence, the string quartet. 
Original songs, sometimes create an intense and exciting repertoire, which goes into the territories of modernity and stylistic hybridization between classical, folk and contemporary music.
A project that rewrites the soundtrack of the place where Italy and the Balkans are reflected in the same root, the Adriatic Sea, to tell two lands that look at each other from their shores, looking out into the same sea with the accordion in the center, bellows that continually approach and move away just like the rhythm of the waves.
Claudio Prima & Seme was born in 2017 and performed numerous concerts and a soundtrack for the documentary by Gianni De Blasi "I tell you about the sea". In 2021 the ensemble released Enjoy, the first album; actually is also working on a new visual with the collaboration of Paola Prestini and co-produced by National Sawdust in New York.
The project is conceived and directed by Claudio Prima, accordionist, singer and composer, leader and creator of numerous investigative ensembles on "border music" (BandAdriatica, Adria, La Repetitiòn / Orchestra senza confine, Tukrè, Manigold) and performed in international festivals and reviews all over the world. Since 2010 he has been the soloist of the contemporary opera Oceanic Verses by Paola Prestini (concerts in Washington, New York and London with the BBC Simphony Orchestra). He also directs the "Young Orchestra of Salento (composed of 45 young musicians from Salento), he was assistant to Goran Bregovic and Giovanni Sollima for the NottedellaTaranta. He has written music for several theater performances for Mario Perrotta, Marcelo Bulgarelli and Camilla Cuparo. Accompanying the accordion we find an ensemble formed above all by young Apulian musicians (Vera Andrea Longo Violin and voice, Paola Barone Violino, Cristian Musìo Viola, Marco Schiavone Violoncello) already protagonists of several excellent participations (La Municipal, Young orchestra of Salento, Orchestra Erasmus).
Biografia
Un ensemble originale per esplorare ed elaborare le potenzialità della musica quale strumento di indagine e mettere in dialogo l'organetto, uno degli strumenti principi della tradizione italiana, con la formazione per eccellenza della musica da camera, il quartetto d'archi. 
Brani originali ispirati, a tratti, dalle musiche tradizionali pugliesi, albanesi e greche creano un repertorio intenso ed emozionante, che guarda alle origini della musica Adriatica, spingendosi con fascino ed eleganza nei territori della modernità e dell'ibridazione stilistica fra musica classica, folk e musica contemporanea.
Un progetto che riscrive la colonna sonora del luogo dove Italia e Balcani si specchiano nella stessa radice, il mare Adriatico; per raccontare due terre che si guardano dalle proprie sponde affacciandosi nello stesso mare con l'organetto al centro, mantice che avvicina e allontana continuamente proprio come il ritmo delle onde.
Claudio Prima, musicista e compositore che indaga i confini delle musiche del mondo, ha fondato e dirige il progetto Se.Me. e ne muove le musiche con l'istinto del ricercatore, curioso e attento, con lo sguardo rivolto, allo stesso tempo, fuori e dentro, per cogliere insieme le consonanze e le dissonanze del rapporto con il mondo. L'organetto e la voce respirano questa continua alternanza, aprendosi e chiudendosi all'aria che li sostiene.
Il progetto nato nel 2017, vanta numerosi concerti e una colonna sonora per il documentario di Gianni De Blasi "Ti racconto il mare". A novembre del 2020 ha presentato "Suite Grecosalentina", un concerto in diretta streaming nella rassegna Musica dalla Magna Grecia in collaborazione con LiveonMars TV e Istituto Italiano di Cultura di Atene. È in lavorazione il primo album che sarà pubblicato nel 2021.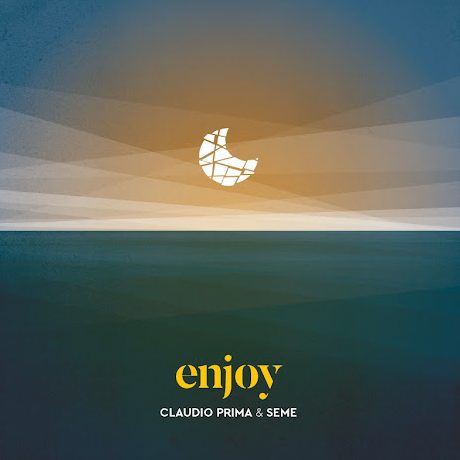 title: ENJOY
year: 2021
label: IPE IPE MUSIC
About "Enjoy"
Original songs create an intense and exciting repertoire, which goes into the territories of modernity and stylistic hybridization between classical, folk and contemporary music.
The accordion has an ancient tradition, linked to the history of Europe that arrives in Scotland from Southern Italy passing from the Basque Country to Eastern Europe; is a relatively modern instrument that has already crossed the whole globe, often in the suitcase of emigrants, who have transported it from Europe to America and Africa, to act as the root for new traditional music in Argentina, Brazil, USA, Canada, Madagascar, Kenya. In recent years there have been more and more mixtures of different styles and in this original project, the accordion meets the string quartet, to investigate the relationship between traditional and classical music, which inspired authors such as Liszt, Ligèty, Bartòk in the 900 and Stravinsky giving life to compositions that have gone down in history (the Hungarian Rhapsody and the Fantasia on popular themes by Liszt or the Romanian and Hungarian Dances by Bartòk). The original repertoire of the ensemble traces an ideal route between the traditions of Southern Europe and the classical world, with a cultured writing that preserves the instinct and passion of the popular style. The strings support the accordion creating a rich and complex musical environment, which thoroughly investigates the expressive possibilities of traditional music, in its continuous flow and dialogue with modernity.
Moon fragment [Full live performance]
Ti racconto il mare